PAINLESS LASER HAIR REMOVAL IN LIMASSOL
SAFE & EFFECTIVE FOR ALL SKIN TONES with Soprano Titanium Hair Removal
One of the most comprehensive and safest hair removal treatments available on the market today is now in Cyprus available at Sculpture Body Center Limassol. It's equipped with trio clustered diode technology that allows it to utilize 3 laser wavelengths, each targeting different tissue depths and hair follicle structures.
How Alma Soprano Titanium Works?
Soprano Titanium has multiple treatment methods: In-MotionTM, SHR Stack and stationary. SHR gradually delivers controlled amount of heat into the hair follicles while preventing damage to nearby tissues. In-Motion™ allows full coverage of the treatment area while ICE™ delivers cold air into the area to prevent burn injuries and improve patient comfort. Because Soprano ICE platinum uses 3 laser wavelengths to target different tissue depths and structures within the hair follicle, the treatment achieves permanent hair removal and has lower chance of hair regrowth.
Is Alma Soprano Titanium Treatment Painless?
The treatment is virtually painless and safe for patients of all skin types. This is because Soprano Titanium targets specific structures within the hair follicle, thereby preventing injury to the surrounding tissues. In addition, this innovative device delivers high repetition rate of short pulses into the deeper skin layers, resulting in precise control of heat applied into the treatment area. Most importantly, its ICE™ technology provides cooling anesthetic effect, thus increasing patient comfort.
How many Alma Soprano Titanium Treatments are needed?
In general, patients can notice smoother, radiant, healthier skin after 6 to 8 treatments. However, some patients may require additional treatments in order to achieve their desired results. This is because the number of treatments depends on the body area, skin condition, hair type, and desired cosmetic goals.
How long are the Treatments?
This will also depend on several factors such as the area being treated, hair type, and skin condition. Typically, smaller areas can take only a few seconds while larger areas can take about 8 minutes to finish.
Getting laser hair removal at Sculpture Body Center in Limassol
Choose the area(s) you wish to treat & book online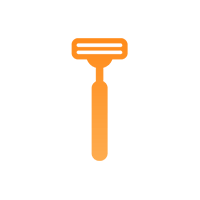 Shave 1-3 Days before your treatment date
Relax during your painless laser session with us
Get on with your life with your new smooth self!
Woman Priceslit
| | |
| --- | --- |
| EYEBROWS | €20 |
| FOREHEAD | €20 |
| SIDE BURNS | €20 |
| MUSTACHE | €20 |
| CHEEKS | €20 |
| CHIN | €20 |
| FACE FULL | €50 |
| | |
| --- | --- |
| NECK | €20 |
| BACK OF NECK | €20 |
| UNDER ARMS | €25 |
| CHEST | €50 |
| STOMACH 1/2 | €40 |
| STOMACH FULL | €60 |
| | |
| --- | --- |
| ARMS 1/2 | €40 |
| ARMS FULL | €60 |
| BACK 1/2 | €50 |
| BACK FULL | €70 |
| BIKINI LINE | €45 |
| BIKINI FULL | €65 |
| | |
| --- | --- |
| BIKINI FULL + Armpits or Mustache | €85 |
| LEGS FULL | €90 |
| LEGS TOP 1/2 | €70 |
| LEGS BOTTOM 1/2 | €60 |
| FULL BODY | €150 |
| FULL BODY + Face | €175 |
Man Pricelist
| | |
| --- | --- |
| NECK | €25 |
| CHEEKBONE | €20 |
| UNDER ARMS | €30 |
| CHEST | €65 |
| SHOULDERS | €50 |
| STOMACH FULL | €60 |
| | |
| --- | --- |
| CHEST & STOMACH | €110 |
| BACK | €80 |
| ARMS HALF | €45 |
| ARMS FULL | €70 |
| LEGS HALF | €75 |
| LEGS FULL | €100 |
FULL BODY

(legs, arms, back, under arms, chest, shoulders & stomach)

€190