PAINLESS LASER HAIR REMOVAL IN LIMASSOL
SAFE & EFFECTIVE FOR ALL SKIN TONES with
Soprano Ice Platinum Hair Removal
One of the most comprehensive and safest hair removal treatments available on the market today is now in Cyprus available at Sculpture Body Center Limassol. It's equipped with trio clustered diode technology that allows it to utilize 3 laser wavelengths, each targeting different tissue depths and hair follicle structures.
How Alma Soprano ICE Platinum Works?
Soprano ICE Platinum has multiple treatment methods: In-MotionTM, SHR Stack and stationary. SHR gradually delivers controlled amount of heat into the hair follicles while preventing damage to nearby tissues. In-Motion™ allows full coverage of the treatment area while ICE™ delivers cold air into the area to prevent burn injuries and improve patient comfort. Because Soprano ICE platinum uses 3 laser wavelengths to target different tissue depths and structures within the hair follicle, the treatment achieves permanent hair removal and has lower chance of hair regrowth.
Is Alma Soprano ICE Platinum Treatment Painless?
The treatment is virtually painless and safe for patients of all skin types. This is because Soprano ICE Platinum targets specific structures within the hair follicle, thereby preventing injury to the surrounding tissues. In addition, this innovative device delivers high repetition rate of short pulses into the deeper skin layers, resulting in precise control of heat applied into the treatment area. Most importantly, its ICE™ technology provides cooling anesthetic effect, thus increasing patient comfort.
How many Alma Soprano ICE Platinum Treatments are needed?
In general, patients can notice smoother, radiant, healthier skin after 6 to 8 treatments. However, some patients may require additional treatments in order to achieve their desired results. This is because the number of treatments depends on the body area, skin condition, hair type, and desired cosmetic goals.
How long are the Treatments?
This will also depend on several factors such as the area being treated, hair type, and skin condition. Typically, smaller areas can take only a few seconds while larger areas can take about 8 minutes to finish.
Getting laser hair removal at Sculpture Body Center in Limassol
Choose the area(s) you wish to treat & book online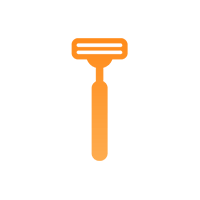 Shave 1-3 Days before your treatment date
Relax during your painless laser session with us
Get on with your life with your new smooth self!
Preparation:
Please SHAVE the area the day before or morning of the treatment, if you are unshaven, we may not be able to treat you. Avoid prolonged sun exposure/sun bathing of the treatment area for 2 days before and after treatment.
You MUST avoid bleaching, plucking or waxing hair for 4-6 weeks prior to treatment, as this allows hairs to grow that are then targeted from your first laser treatment. Do not use depilatory creams 1 week prior to treatment. Stop using self-tanning creams two week before treatment.
Frequently Asked Questions (FAQs)
1
What is Soprano ICE Platinum?
Soprano ICE Platinum is the latest generation of the award-winning Soprano laser hair removal system. It is the most complete and effective laser hair removal system available today. Celebrating 10 years of award-winning success, Soprano ICE Platinum is the limited edition platform for 2016 featuring trio clustered diode technology. The Platinum edition combines 3 laser wavelengths into a single innovative handpiece, simultaneously targeting different tissue depths as well as anatomical structures within the hair follicle.
2
How is Soprano ICE Platinum different from other Soprano hair removal systems?
Soprano ICE is an advanced hair removal platform that incorporates multiple laser wavelengths and technologies. It offers power and versatility that allows you to treat the widest range of patients and hair types all year round.
3
Is hair removal with Soprano ICE Platinum really painless?
Soprano ICE Platinum uses Alma Laser's SHR method, which is the only clinically proven method of laser hair removal that is virtually painless. The unique heating and energy delivery method effectively damages the hair follicle while preventing injury and pain to the surrounding tissue. At the same time, integrated ICETM tech cools the skin surface, preventing superficial burns and the sensation of pain.
4
Is hair removal with Soprano ICE Platinum safe?
Absolutely. Soprano ICE's SHR method has been proven in multiple clinical studies as the safest method of laser hair removal for all skin types. With SHR, hair follicles are damaged not by a single pulse of high energy which can injure the skin, but by repetitive short energy pulses. These pulses produce heat build-up which gradually raises the temperature of the dermis to the level needed for preventing hair growth, while minimizing the risk of burns.
5
Is hair removal with Soprano ICE Platinum safe for dark skin?
Yes. While the melanin in dark skin is exponentially more sensitive to the heat used in laser treatment, Soprano ICE's SHR method has been clinically proven to be the safe for dark skin types. Rather than exposing the hair follicle to a single high energy pulse which can cause trauma to skin with a high melanin count, SHR gradually heats the skin until the required heat energy is delivered to the hair follicle. This makes SHR the safest laser hair removal option, including for dark skinned patients.
6
Can Soprano ICE Platinum be used in the summer and can it treat tanned skin?
Yes. Soprano ICE's SHR method affects the melanin of the skin using a unique method, allowing the procedure to be performed anytime of the year as well as on tanned skin. Furthermore, sun exposure is less traumatic to the skin following SHR treatment.
7
Are Soprano ICE Platinum treatments performed only by physicians or can they be performed by clinical staff?
Treatments with Soprano ICE Platinum are easily delegated to clinical staff. The Soprano ICE Platinum system is simple to operate featuring a user-friendly interface. Treatments are clean and quick with no disposables.
8
How long are treatment sessions with Soprano ICE Platinum ?
While Soprano ICE Platinum offers the fastest laser hair removal solution available today, the duration of treatment can vary depending on the patient's skin color, hair type and the area being treated. Treatment time can range from a few seconds for a small area such as above the upper lip, to 8 minutes for the entire back.
9
How many treatments do patients typically need in order to see results?
Depending on the patient's skin and hair type, results are typically seen following 6 to 8 treatment sessions.